Cemil would like you all to meet his family because they're a really cool group.  He came to live with us at 8 weeks old, sent by his Uncle Zeki who had passed away earlier that year.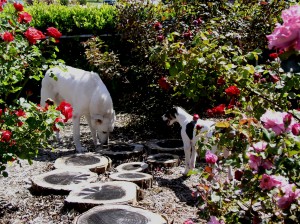 Radzi had come to us to be a buddy to Zeki, a sighthound big enough for an Anatolian to play with.  It wasn't to be.  Zeki had to watch over us in the spirit realm, and he sent his nephew Cemil (whose name means "a good gift"), to watch here.  Radzi is a Chart Polski, the Dog of Kings in old Poland.  I picked him from the litter a few days after his birth–I knew he belonged with me.
The black spot on his side is in the shape of a heart
Alle is the other dog, a 14-year old yellow lab with a little bit of red chow.  I think she has contributed a lot to the even tempers of Radzi and Cemil since she was there when they were babies and had some influence over them.
This is one of my favorite pictures of Alle, with the daughter of a friend of mine.  Alle is always happy.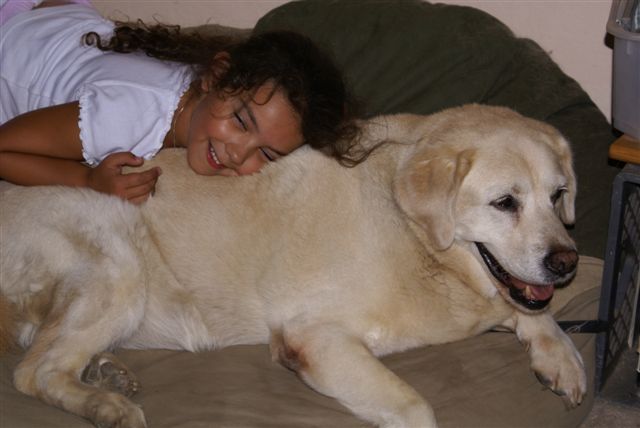 The group stayed the same for a couple years, then I saw a notice of an Anatolian Shepherd needing a forever home, and Mujde came to live with us.  She traveled from Texas in a livestock trailer with some goats and miniature horses. Cemil took to her almost immediately even though she thought (for a little while) that she'd like his Top Dog position.  They spend a lot of time together.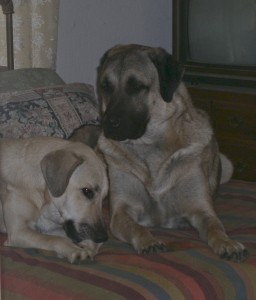 So now  you've met Alle, Radzi, Mujde and Alex.  There's just one more critter living with us, and that's Whidbey.  Cemil watches over him, too.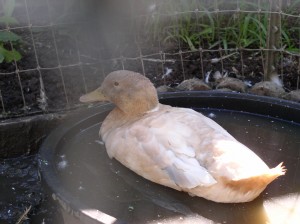 The URI to TrackBack this entry is: https://cemil.tripawds.com/2010/01/17/meet-the-family/trackback/
on January 18, 2010 at 11:10 amkrun15 Said:

Probably so- Maggie is down to a little less than 16.5 lbs right now! Actually the two of them together are 34 pounds!!

Karen

on January 17, 2010 at 9:56 pmcemil Said:

Karen–had to look that one up! First vet visit was at 13 weeks and he was 40.5 lbs. At 8 weeks when I brought him home, I think he was a little bigger than Maggie is now. Wish I could remember specifics!

on January 17, 2010 at 7:57 pmkrun15 Said:

How big was Cemil when you brought him home? Maggie was 4.5 pounds at 10 weeks, I'm guessing Cemil was a tad bigger.

Karen

on January 17, 2010 at 7:43 pmcemil Said:

Well, Whidbey would probably enjoy the water, but I haven't got him leash-trained yet. 🙂
Alle hasn't come to the Dog Park because of her arthritis, but we're working on that.
I'll also work on a blog post with Cemil's baby pix, just for you.

on January 17, 2010 at 7:07 pmcairasue Said:

Oh my goodness! More baby pix of Cemil, please! I just shouted across to Adam that Chuck's baby picture is online!
Does Whidbey stay with you year round? I guess you won't be bringing him OR Alex to the next tripawd hop!
I loved meeting Radzi and Mujde. I don't believe you've brought Alle, have you?
Mary

on January 17, 2010 at 5:42 pmcemil Said:

Mujde turned out to be an Anatolian-Lab cross–she's the one you met at the Dog Park. She's Lab-size, about 70#.

on January 17, 2010 at 5:39 pmkrun15 Said:

OK, so I know we have met Cemil and Radzi, and once either Alle or Mujde. In the pic Mujde looks kind of like a lab- how big is she compared to Cemil?

Karen and the pug girls

on January 17, 2010 at 5:34 pmjack crowder Said:

What a wonderful family!
It's hard to believe Cemil was ever that small! He is such a gentle giant and social butterfly.
A visit to the dog park is not complete till you've been "leaned on" by Radzi. It is so sweet the way that Radzi "stands over" Cemil, you can tell they are buds.
Thanks for sharing, see you soon!

on January 17, 2010 at 3:20 pmjakesmom Said:

What a beautiful family you have!!! Thankyou for sharing with us!

Angel Jake's Mom

on January 17, 2010 at 2:58 pmEmilysmom Said:

Yikes! I also say Kuh-Meel, It is a good thing we are only cyber buddies.
Debra & Angel Emily

on January 17, 2010 at 2:37 pmcemil Said:

There are two ways to pronounce "Cemil"–English and Turkish. English would be se-MEEL. In Turkish, the C is pronounced like a J, so it's je-MEEL. I use both. He also answers to Chuck 🙂

on January 17, 2010 at 2:02 pmadmin Said:

What a wonderful pack you have there!

on January 17, 2010 at 1:55 pmDane Mom Sue Said:

What a great family! It was really neat to find out what Cemil's name meant. I know this is a goofy question, but how to you pronounce Cemil? Is it SEE-mul? I know many Tripawds have had the chance to meet the big man in person, but sadly we live in Michigan!

Nova sends licks and leans!

Sue