This wasn't a good weekend for going places.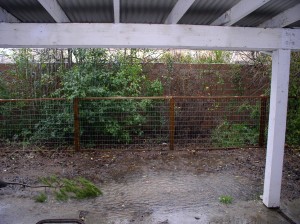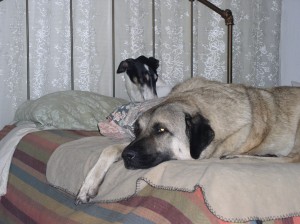 Mom is doing boring computer work, nobody feels like playing…
It's her birthday today but she worked anyway.  Her friend came over and made Mujde bark and we didn't know until she got home, but she got flowers for her birthday.  That must be a people thing.  They don't even smell like something good to eat.
The good part was, we got our dinner early.  See that pill on top?  It's my mushroom pill and I swallowed it all by myself.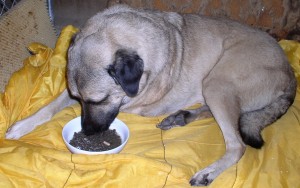 I think when we get finished on this computer, we'll snuggle up on the couch and watch a movie.  That's a different kind of fun than going to the Dog Park, but I like it just as well.  Maybe next weekend the weather will be a little better and we can go meet some new people.  I'll let you know.
Cemil

The URI to TrackBack this entry is: https://cemil.tripawds.com/2010/01/24/rainy-weekend/trackback/